---
Passengers are required to have adequate travel documents for all flights on all concerned airlines and to abide by national laws and regulations.
International flights
Passport
Travel documents or immigration documents in accordance with Vietnamese Law on entry, exit, transit, and residence of foreigners (such as loose-leaf visa, permanent residence card, temporary residence card, identity card. Identity card, or alternative documents as per agreement between the nations).
If your children do not have a passport, their full names, date of birth and stamped portrait picture have to be available in the travel document of the legitimate representative.
Entry conditions
Passengers who are citizens of the following countries, when entering Vietnam with a temporary stay of 15 days from the date of entry, regardless of passport type, entry purpose, on the basis of satisfying all conditions will be exempt from visas: Federal Republic of Germany, Republic of France, Republic of Italy, Kingdom of Spain, Union of Great Britain and Northern Ireland, Russian Federation, Japan, Korea, Denmark, Sweden, Norway, Finland and Belarus. This regulation is valid from March 15, 2022 to the end of March 14, 2025.
Passengers who are foreigners within the framework of international treaties to which Vietnam is a member or are citizens of countries with visa-free policies on the basis of reciprocity with Vietnam are exempt from visas upon entry.
Foreigners, overseas Vietnamese and their families (relatives) who have all valid documents (permanent residence card, temporary residence permit, visa, visa waiver) are allowed to enter Vietnam. Passengers specified above do not need to re-apply for separate personnel verification, visa issuance/visa waiver, and there is no need to apply for entry permit approval from the Immigration Office and the relevant local authorities.
Testing and vaccination requirements
Passengers are not required to take Covid test before entering Vietnam as of May 15th, 2022.
Quarantine regulations
Within 10 days from the date of entry, passengers self-monitor their health. If you have symptoms of SARS-CoV-2 infection (fever; cough; sore throat; runny nose, stuffy nose; body aches, fatigue, chills; decreased or lost taste; decreased or lost sense of smell; pain, headache; diarrhea; difficulty breathing; respiratory infection…) must immediately notify the nearest medical facility for guidance and timely management; take preventive measures: regularly wear a mask, disinfect hands with an antiseptic solution.
Health declaration
Passengers entering Vietnam are not required to make a medical declaration from April 27, 2022.
Visa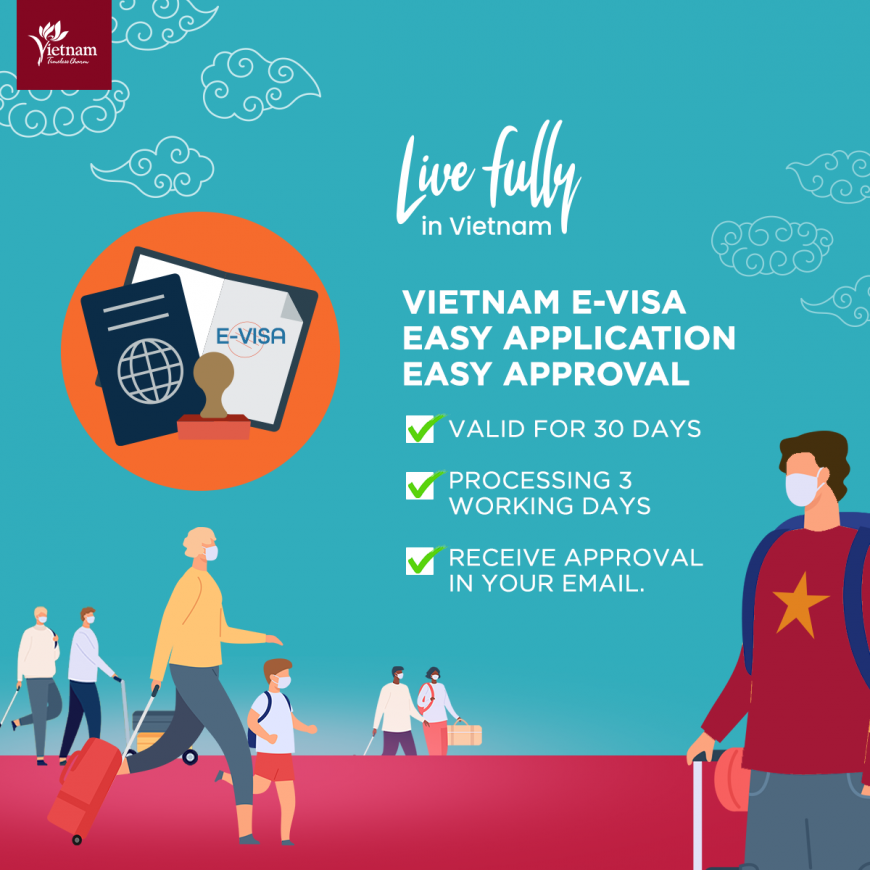 Generally, if passengers are non-nationals (foreigners), they are required to have a visa to enter Vietnam. In case of coming from a country with visa waiver status, passengers are allowed to travel to Vietnam for 14 days with visa exemption. Passengers traveling with Vietnamese visa exemption status are also permitted entry. (List of exemption of entry visa to Vietnam (with details information and restriction) could be found here)
To make your trip more convenient, we would like to provide the visa and immigration information application by the International Air Transport Association (IATA). Please click here for more details.
You should obtain a visa prior to your travel. For a tourist visa, you can apply:

at the Vietnamese Embassy/Consulates in your country.
online at the Vietnam Immigration Department (only for some countries eligible for electronic visa). Click here for more details. Once an E-visa is issued, the visa applicant will be able to print the E-visa to enter/exit VN
How to Apply for Vietnam's e-Visa:
Step 1: Prepare the required materials:

One 4×6 passport photo in .jpg format with a white background, without glasses.
One photo in .jpg format of your passport data page.
Passport valid for at least six months.
Your temporary address in Vietnam and points of entry and exit.
Debit or credit card for payment

Step 2: Access https://evisa.xuatnhapcanh.gov.vn/ and go to 'E-visa Issuance' then click on the link for 'Outside Vietnam foreigners'.
Step 3: Upload your .jpg images (passport data page and passport photo) and fill out the required fields on the form completely. Submit your form.
Step 4: Pay the e-Visa fee. Copy down the document code provided.
Step 5: Within three working days you should receive news of your e-Visa application via email. If not, you can also run a search for your e-Visa at this link.
Step 6: Use your document code to locate your e-Visa online. Download and print the e-Visa in two copies for extra safety.
TIP: Travelers with an e-Visa can go directly to immigration counters at their point of entry and do not need to queue at Visa on Arrival counters.